One thing that has recently created problems for me is jaw discomfort. I know I clench frequently and my body seems tense all of the time. Not too long ago the pain was so severe that it was going into my ear. At one point, I went to the ENT doctor because I thought it was something wrong with my ear. Once I started using this remedy, I was able to break through the tension and get my jaw relaxed. Now, if I even feel the slightest tension starting I hop on my self-care ritual right away so I can nip it in the bud quickly.
I have been able to help clients and customers that were having severe jaw discomfort by sharing this with them. After that, I decided I should keep the info handy for those who might be experiencing the same thing.
First I use a blend of essential oils that are known to be muscle soothing and tension taming.  Lavender and peppermint essential oils are great to have on hand for a wide range of wellness needs and can be used in so many other ways in your daily life. I personally make this blend diluted in a "short term" usage  percentage of 3% in a jojoba oil (for ages 12 and up). I like to use a roller bottle to apply this blend down my jawline and down my neck from under my ear. It is skin safe and ready to use.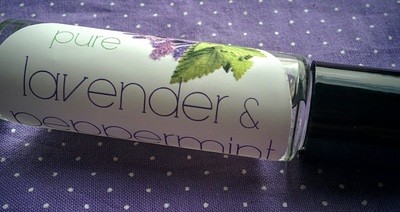 Lavender and Mint Essential Oil Roller Bottle BlendBuy Now
Herbal heat therapy pillows are AMAZING and I have been making them since 2005, before I became an esthetician.It all started by making a few for gifts, but the demand was incredible and it turned into a mini business because people wanted them!  I couldn't even keep up with the sewing at one point and had to hire my good friend and sewing extraordinaire VickiG to help me. You have probably seen them before, it's not something unique and they are sold many places.  It took me many years to perfect the size and style that worked well for me and my customers, but the fact that they really help calm, soothe and relax the body is not even in question.
Anyway, this one size pillow 6″ x 12 " filled generously with flax seeds, lavender buds and peppermint leaves is my personal favorite. I sleep with it every night, it's like a warm hug on my body and to help take the chill from a cold bed so I can relax and get to sleep easier.  This pillow is thick and squishy, perfect for placing on the jaw to help relax those muscles in that area. You can definitely use the pillow without the essential oil blend, but the two together work like a dream.
Facial massage techniques have a lot of power behind them and one is the ability to relax the jaw muscles. Whether you are doing it at home or you are getting a service from an esthetician or a massage therapist, a facial massage is AMAZING.  I love to use awesome massage tools like the Kansa Wand and gemstone rollers in my services and on myself at home.
Jaw tension can also cause or increase dull skin, acne and puffiness because it restricts blood and lymphatic flow. The lymph fluid cannot drain and the cellular waste will sit stagnant increasing the toxins.
If you suffer from a tense jaw I would highly recommend you try one or all of these suggestions. They are simple and inexpensive ideas to get relief and practice self-care.